It was all about arriving and meeting up with my darling. We thought we would have dinner with a friend of mines so I didn't eat much (REGRET cause that dinner never happened DX). We honestly didn't plan anything either for that day because of that arrangement and so we went exploring the area and found out... we lived only 5 min walk from
Bugis Street
and
Junction
!

We stayed at Big Hotel Singapore.
I wanted to buy so many things from the street shops of Bugis street, but we had only changed US 100 at the airport and didn't find the money exchange's quote there that attractive. Thank goodness cause over at Bugis we found it to be the best buy/sell rate. I know this because even after typing this we've yet to find an XE that gave us as much as they did.
disclaimer: I haven't been around the entire city visiting each and every but amongst the ones I have the Bugis Junction XE gave us the best
. We explored Bugis Junction a lot more to kill time and be 'productive'.

We ate at the food court and also at this cute Japanese cafe (Shokudo) where I got to sample a delicious Tofu cheese cake!
After exploring Bugis Junction we headed back and had an early night. We both (particularly my bf) was exhausted. He had to wake up early (3am) make sure all's ready and fly to Singapore from Taiwan and wait for me at airport. What did I do? Plan for tomorrow.
And folks... if you know me... you'll know things didn't fly well that day either... because of what happened during Day 1.
While exploring we wanted to sign up for a phone service and had went to SingTel to get a chip and subscribe for the 3 days, 6GB prepaid plan.
Cause I have no sense of direction and well using your phone's gps is probably the best thing... we so modern (and lazy).
We found a
SingTel
but the cashier there was just so bad at explaining! We both just couldn't comprehend what she was saying!
We thought we had to pay $S15 for chip and then top up S$18: 15 for 6GB for 3 day, and 3 for calling. That would mean a whopping 33! So we decided not to get it then cause money is money.
The next day I got in contact with my friend who told me it wasn't like that and so we went off to SingTel again and this cashier while not so good in explanation like his coworker, forced us to just buy the $18. Now usually this isn't a good business technique but oh goodness I wished the girl did that cause after reading the instruction carefully did we understand what we had to do: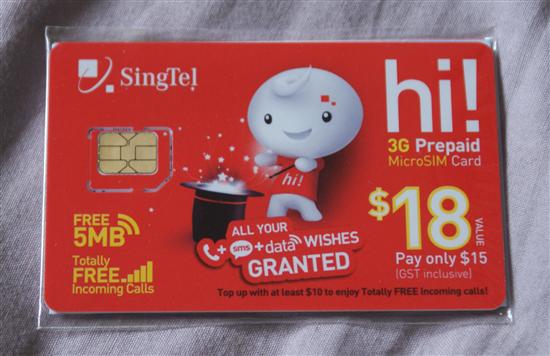 Card sample credit Travel Fish
1. Buy the goddamn $18 card.
for 15 sing dollar only
2. Open it, insert the sim and follow instruction as given.
3. ...
4. Profit
from time loss
.
The $15 for data plan was deducted from that $18 to pay for the plan and the remaining 3 became the minutes! It was just as I had wanted.
Unfortunately we only figured this out Day 2 around 11am and it really set back our Day 2 of Singapore by a lot.... because Day 2 was the day we wanted to start our tourist tour of Singapura.